halata bang SENIOR na......?
Do you see the porma? Well...it is just the looks of it...walang tama ang target diyan..he he he...di naman halata di ba? Ano panama ni Bruce Dilis, Steven Segal, o FPJ diyan...!!!
This is practical shooting...trying to hit the targets on the move (walking, running, diving) with the targets moving at times too...Shooting from different angles,standing,kneeling,sitting,prone, or whatever the course of fire dictates. It looks easy when you are just watching, but do try it yourself!
It takes a lot of time...practice...and lots of patience to play the sport(at lots and lots of pera of course,di biro halaga ng baril, gunsmithing, holster, at kung anu ano pa plus balang pampraktis...no ka? mas mahal ang larong ito kesa sa golf)...a lot of things to master and put in your head on and off the range...mental alertness is required at all times and agility is a great plus...eh ako, wala ako lahat niyan...ha ha ha...kaya lam nyo na...PATAWA!!!
Discipline must be instilled...dyan ako lamang na lamang...lagi ako nasa Office ng Prefect of Discipline noong student days ko..."Dean's Notorious List"
The shooting community is a big organization, a big band of brothers...bound together by the Philippine Practical Shooting Association (PPSA), under the umbrella of the worldwide International Practical Shooting Confederation (IPSC).
And yours truly is a member of the National Range Officers Institute(NROI)...which makes it all the more difficult to show rowdiness or troublesome attitude...A range officer must show ultimate discipline...a good example to fellow shooters...!!! Bakas na bakas naman sa aking mukha ang larawan ng hinahon...ang pagiging tahimik...ang kawalan ng muwang sa mga kasalbahihan(and I have the Las Vegas Police and the NYPD (5 men down) to attest to this)...and ako ang pinakamatino sa lahat ng range officers!!!
The men in gray are the authority at the range...no matter if you are a politician, a military officer or personnel, or an officer or member of any law enforcement organization...pagdating sa range kailangan sumunod sa batas ng range...and range officers are the ones who implement them. Kaya kahit sino pa sila...ang tawag nila sa akin ay "MAM"...kung hindi...baka kurutin ko mga singit nila....hay naku cheng...tayp!!!
Kitams, para akong si Jerry Barnhart na nagbibigay ng pointers...
dry fire habang nagsasampay ng labada ....
likod bahay gang...he he he...para di kita mga neighbors na ander ako
wag kang loko at "glock perfection" hawak ko...glock 22 caliber 40, the safest gun in the world...baril mahirap ay tanfoglio...he he he, baril rich ay glock...(according to Manny Cruz un ha!)
dry fire practice is necessary to enhance muzzle memory...synchronizing the eyes and the trigger finger not to pull the trigger without zeroing in on the target...
at iyon ang sikreto para lumakas ang pagpiga sa labada para siguradong malinis at amoy malinis rin...praktis rin un sa paghawak ng plantsa para superb ang hagod....hirap na baka mapalo ng asawa
sa porma man lamang ay magmukhang magaling di ba? ha ha ha....
Team Boklog...grupo ito ng mga palpakis...he he he..
Tierra del Fuego Firing Range at Splendido, Taal Batangas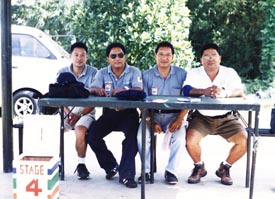 Dr. Alfonso "Fritz" Famaran,Engr. Rosauro "Ross" Garcia, Engr. Luis "Tatang" Bautista and Dr. Pol "Delta1Elite" Gonzales